Design my graduation cap, help Afghan refugees!
We did it!
After many weeks of building, programming, and fundraising, I have finally graduated from UNC Chapel Hill! We raised $2,274 and received dozens of submissions that I proudly wore during graduation weekend. If you'd like to see how I did it, watch the video below and click here to see my detailed write-up of this entire project!
Thank you everybody who helped make this project a reality, I truly appreciate your donations and submissions. Feel free to read on, but keep in mind that I am no longer accepting new submissions (since I've already graduated and all that).
---
Who are you?
Hey, my name is Idrees Hassan and I am finally graduating college! Well, technically I graduated in May of 2020 from UNC Chapel Hill with a B.S. in Computer Science, but due to circumstances my graduation ceremony was postponed until October 10th, 2021. Now that the big day is finally coming up, I am faced with one very important question:
How will you decorate your cap?
Great question! I will be putting a fragment of an electronic billboard on my head!
No, seriously, I will be attaching a very bright, 32x32 resolution LED matrix to my graduation cap. For those who don't know, an LED matrix is a grid of lights that when put together create a small, low resolution, very bright screen. This particular matrix is the kind used in billboards and large screens, like jumbotrons or the big screens plastered around Times Square. Using a series of programs I've designed, I am able to display any image, message, or animation I want on the cap during my entire weekend-long ceremony.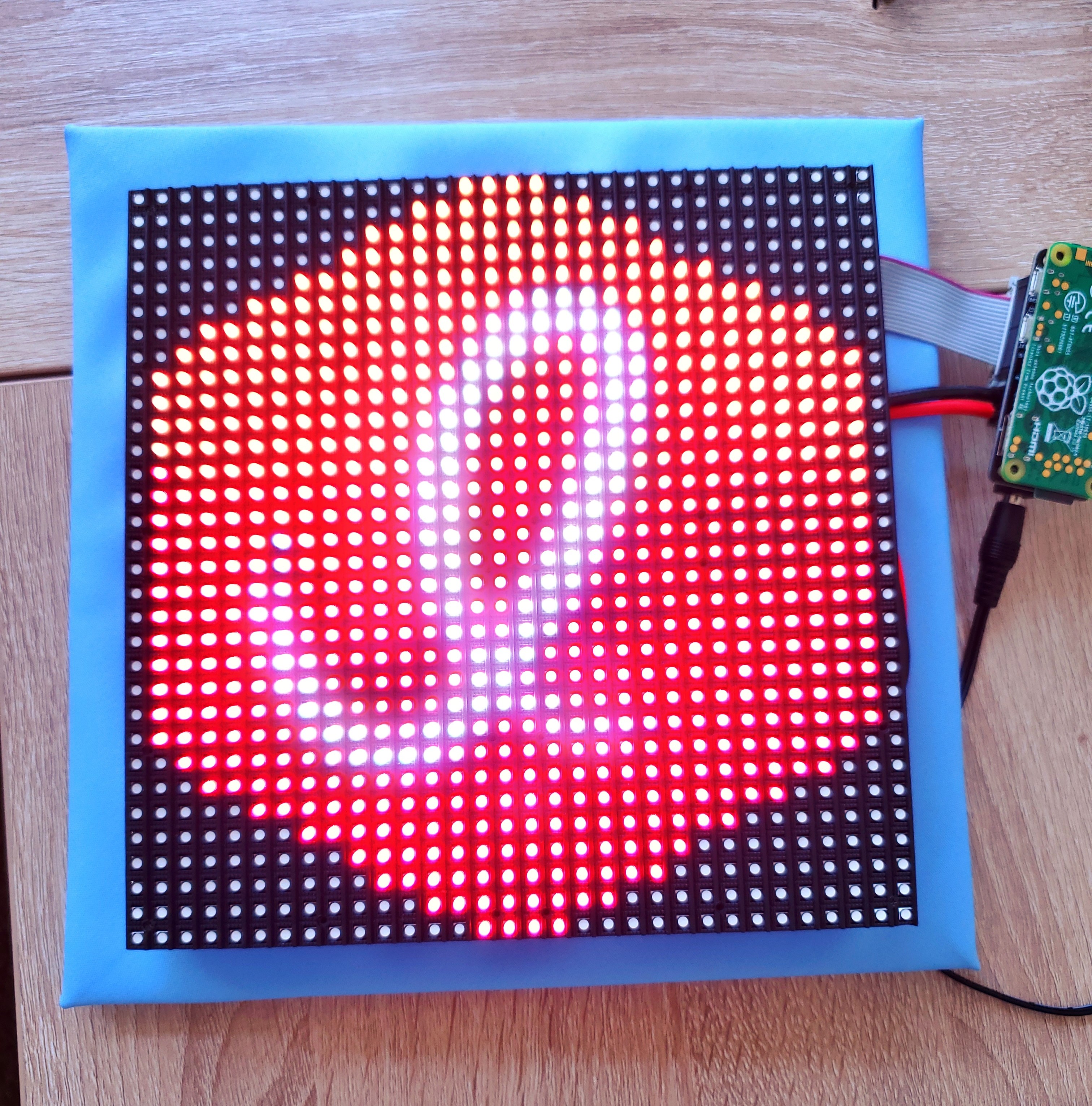 Okay, what does that have to do with me?
I am allowing anybody who donates to a charity that supports Afghan refugees to display a message or image of their choosing on my graduation cap during graduation!
Just send me a receipt with your donation and the message or image you want featured on my cap, and I will display it along with the submissions of every donator. Importantly, you do not need to send me any money directly (unless you are unable to donate yourself for any reason), simply show me a receipt stating you have donated to a charity committed to helping refugees. There is no minimum amount you need to donate, and we are trying to reach a total fundraising goal of $1,000. You have until the morning of October 10th to send in your submissions.
Update Sep 22, 2021: Due to the amazing generosity of family and friends, the fundraising goal of $1000 dollars has been reached! Our new goal is $1,500, if only so that I have a reason to keep updating this little progress bar.
Update Oct 02, 2021: And now we have even reached $1,500! Thank you all so much for your support, I will be honored to wear your designs during graduation. The problem now is deciding what color to make the progress bar for the updated goal of $2,000…
Update Oct 07, 2021: Oh man, thank you all so much for your support with this project. We have now officially doubled the original goal of $1,000 raised for Afghan refugees, and I get the privilege of wearing all of your weird and wonderful designs this weekend!
$2,274 raised of $1,000 $1,500? 2,000?!

How do I donate?
Note that as of Oct. 10th I have officially graduated and will no longer be accepting new submissions. Click here to see how it went!
You may donate to any charity you believe can help improve the welfare of refugees. To make things easier, I've included a list of charities highly rated by Charity Navigator below that you may consider.
You may donate to any charitable organization you choose including ones not listed here as well as local fundraisers or events hosted by schools, masjids, churches, etc. You should make sure to do your research and pick the one you believe will make the most difference. Volunteering at local events like distribution events also counts, in that case you'd just need to send a picture of yourself at the event. Once you have made a donation, email me with any form of proof alongside the design/message you wish to display on my cap and I will make sure it is displayed! For information on how to choose a design or message, keep reading.
What can I display on your cap?
You may submit either a short message or an image along with your donation. If you'd like to submit an image/design, any image will do so long as it is square. Keep in mind that while your submission can be any resolution, it will be displayed on a 32 by 32 pixel screen, meaning that you might want to avoid pictures with lots of details. Designs can include anything as long as it is appropriate to wear during a graduation. This includes things like logos, artwork (good or bad), your favorite sports team, a picture of your dog, etc. If you'd prefer to make your own design, keep reading to see my custom LED matrix editor.
You may also choose to display a short message instead which will scroll along my cap. You may display any message you wish, so long as it is less than 30 characters and is appropriate. The reason for the short limit is that scrolling text takes a longer time to display than a single image and I need to make sure everyone's submission can be displayed. For an example of how far that limit goes, "This sentence is 30 characters" is exactly 30 characters long.
If you'd like to draw your design by hand, try out the editor I made below, or click here to open it in fullscreen
How do I submit my donation and message/image?
Easy, just send an email to idrees@idreesinc.com with the following template:
To: idrees@idreesinc.com
Subject: Graduation Fundraiser
Body:
Your name
A receipt or any other form of proof that you have donated to a charity supporting Afghan refugees
An optional note you'd like to include with your donation (separate from the image or message you're submitting)
Whether you'd prefer for your name/note to be anonymous (AKA not shown on this site alongside your message/image)
The image or message you'd like to submit! Note that you may also submit images as attachments
How can I get in contact with you?
If you would like to get in contact with me one-on-one, you can email me at the email below! You can follow updates on this project and other projects of mine via Twitter @IdreesInc See the source code for this and other projects on my GitHub Or even reach out to me on LinkedIn
That's pretty much the gist of it
Thank you for taking the time to read through everything, and I hope you will consider supporting this fundraiser. Your support means a lot to me, and I am excited to wear whatever weird and wonderful things you all decide to put on my head!
FAQ
Is there a minimum amount I need to donate?
Nope, any amount will do as long as you are supporting a good cause!
When do I need to submit my donation by?
October 10th, 2021 at 10:00 AM EST
Can I submit any design/image?
Sure, as long as it is appropriate to wear to a graduation. Meaning that it cannot contain anything inappropriate or crude, and should not have any messages that might be hurtful. I reserve the right to veto any design submitted.
What if I don't have an image or message in mind?
No worries! Just get in touch with me (contact info at the bottom of the page) and we can work it out together. If you don't want to display anything but still want to donate, that's cool too!
When will my submission be displayed?
I will be wearing the graduation cap during the ceremony on October 10th as well as on and off throughout the graduation weekend (as there will be multiple separate events). During these events, I will be cycling through each image and message submitted as part of the fundraiser and displaying them in big, bright, colorful detail on my cap. I cannot promise that the ceremony won't be delayed or cancelled due to extenuating circumstances (such as the ongoing pandemic), but I will do my best to wear the cap (and your designs) at whatever ceremony UNC provides. I also cannot guarantee that technical problems won't prevent my hat from working on the day of, but I will do my best to test thoroughly and be as prepared as possible.
How long will my submission be displayed for?
The graduation cap will cycle through each submission sequentially. While the graduation cap is displaying submissions from the fundraiser, every image/message will be shown for a few seconds each.
What other things will the graduation cap do?
I'm not sure yet! I intend to add a few different modes, which may include an interactive canvas mode or some little games. I will also be adding overrides to display my own animations and images (like the UNC logo) so that during personal pictures and when the speaker is talking about something serious I don't have to worry about my cap being distracting to other members of the audience.
Can you guarantee that my submission will be shown during your graduation?
I will do my absolute best to make sure my hat functions correctly throughout my graduation and displays all of the submissions you all worked so hard on. I will test thoroughly, carry backup components, and do everything in my power to make this project a reality. However, I cannot guarantee that nothing will go wrong which might prevent me from achieving my goal of being a living billboard and proudly wearing your messages. In that case, while I can't refund you for your charitable donations (though I'm sure you'd never ask me to), I will do my best to make up for it by wearing the hat on a later date throughout campus and making sure your beautiful submissions are shown to as many people as possible.
Do you have any legal mumbo jumbo you need to mention?
Of course I do. First, make sure you only submit information that you are comfortable sharing! By submitting your donation, you are giving me full permission to use the designs, messages, and information you send me in any way I like, which can include sharing or modifying them. I need to say this so that I can work with and display your submissions without worrying about breaking copyright law. Second, you must only submit content that you own or have been given permission to use under these terms. This is so I don't get sued. Lastly, I reserve the right to not display your submission if you break the terms on this page or for any other reason. This is because I don't want to be kicked out of the ceremony!
If you have any more questions or comments, feel free to contact me using my details below and I will do my best to answer ASAP!
Want to get in touch and talk about one of my projects, opportunities, or just feel like chatting?
Feel free to comment below or email me at idrees@@example.comidreesinc.com
Check me out on Github: https://github.com/IdreesInc
Follow me on Twitter: https://twitter.com/IdreesInc
Reach out on LinkedIn: https://www.linkedin.com/in/idrees-hassan/
Or watch my videos on YouTube!